Basmati Rice Recipe: How To Cook At home
• Basmati rice recipe • Organic basmati rice recipe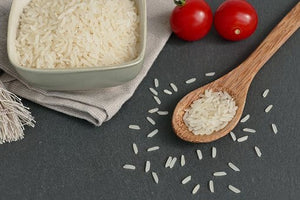 Basmati rice is a fragrant, long-grain rice that is commonly used in Indian, Middle Eastern, and Persian cuisine. It has a distinctive nutty flavor and aroma, and its fluffy texture makes it perfect for pairing with curries, stir-fries, and other dishes.
To cook basmati rice, start by rinsing the rice in a fine-mesh strainer under cold running water until the water runs clear. This will help remove any excess starch and ensure that the rice cooks evenly.
Next, bring a pot of water to a boil and add the rinsed rice to the pot. If desired, you can also add a tablespoon of oil or butter to the pot to help prevent the rice from sticking together.
Reduce the heat to low, cover the pot with a tight-fitting lid, and simmer for 18-20 minutes, or until all the water has been absorbed and the rice is tender. Once the rice is cooked, remove the pot from the heat and let it sit covered for 5 minutes to allow the rice to steam and become fluffier.
The rice should now be fluffed with a fork and salt to taste added. From pilafs to biryanis to simple side dishes, basmati rice is a versatile and delectable ingredient that can be utilized in a variety of cuisines.